WHAT IS THE FANUC ROBODRILL?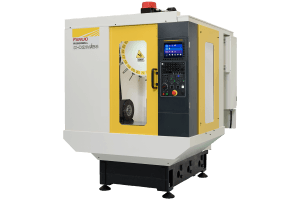 The FANUC RoboDrill is a high-performance CNC machining center, known worldwide as the fastest, most reliable machine manufactured today.
RoboDrills make quick work out of any milling, drilling or tapping jobs. Whether you machine with the standard 3-axis setup, integrate a rotary table for 5-axis machining, or scale up through Methods Automation, speed, precision, and quality show up time and time again no matter what you cut on the RoboDrill.
Coupled with the latest FANUC α-DiB5 ADVANCED control, the RoboDrill is the preferred machine in any manufacturing facility—no matter the size.
And because the RoboDrill is part of our Ready to Ship program, it's guaranteed to be shipped to you within 5 days of receiving a clean order.
WHAT ARE THE ADVANTAGES OF ROBODRILL?
Cutting
RoboDrill spindles operate at 10K – 24K RPM vs. the competitive 30 taper machine's spindle that maxes out at 16K on most models
RoboDrill's 24K spindle achieves higher rigidity than the competitors 27K spindle
TCP with rotational axis compensation
Service and Reliability
Lifetime maintenance policy
9-year mean time between failures on a RoboDrill vs. 5-year failure rate for competitive 30 taper
5,000,000 tool changes on a RoboDrill before preventative maintenance is required (60-second cycle times, 2000 annual hours, at 60 parts per hour)
Ease of Use
User-friendly FANUC control features advanced functions and user interfaces, conversational programming, and collision detection.
Easier programming for operators
Reduced risk for errors
Improved effienciy
High-speed, 0.08 ms skip function vs. 2.9 ms for competitive 30 taper machine
Expandability to Full 5-Axis Machining 
As the premier FANUC integrator in the U.S., Methods has deep expertise is integrating 5-axis rotary tables into the FANUC RoboDrill to elevate the platform into a full 5-axis capable machining center. We use trusted products from Tsudakoma, Häberle, and others to scale your production.
When the machine, the rotary tables, the automation, and the robot are all built, deployed, and serviced by one partner, it's a formula for realizing higher gross margins and ultimately making more money.
MAXIMUM RETURN ON INVESTMENT

Most importantly, the bottom line: ROI. Maximum output per square foot at the optimal cost per part so you're realizing higher gross margins. Because isn't that what matters most?
The math is clear: If you're looking to achieve the most value out of your floor space, the RoboDrill (especially when coupled with Methods Automation) achieves the fastest time to ROI and the most revenue.
Don't believe us? We'll show our work.
THE POWER OF AUTOMATION
Our experts can walk you through the many ways to expand RoboDrill's operations with various forms of fully integrated automation. As the leading certified FANUC integrator, Methods builds, deploys, and services a range of fully-integrated automation cells built on and/or with the RoboDrill platform.
Automation Solutions Available
READY TO GET STARTED?
Want to learn more about the FANUC RoboDrill? Contact your closest Methods office, one of our trusted Dealers, or contact us directly.