In a rapidly evolving world with modern and sophisticated technologies, tight deadlines, and the need for higher production qualities, multitasking is not just a luxury but a necessity. Integrating multiple capabilities into a single product delivers greater efficiency and quality.
CNC multitasking machining offers similar opportunities.
Integrating multiple functionalities into a single machine can dramatically improve the machining throughput and quality, allowing for a faster ROI. Job shop owners and factory machine shop managers see increasing opportunities to adopt multitasking CNC machines.
This guide explores the fundamentals of multitasking machines, including what they are, how they work, their benefits, and their applications.
What is a Multitasking Machine, and How Does It Work?
Multitasking machines combine two or more conventional single-function CNC machines into a single super machine that performs multiple tasks. A multitasking machine can perform tasks such as grinding, milling, turning, etc., without altering the setup of the workpiece.
These machines commonly combine one or two lathes with a machining center. However, the equipment can integrate additional capabilities such as gear cutting and laser hybrid. Various machine configurations offer job shops the option to invest in what is ideal for production needs.
Multitasking CNC machines offer higher throughput. Combining multiple functionalities in a single machine reduces setup times and minimizes the chances of human errors.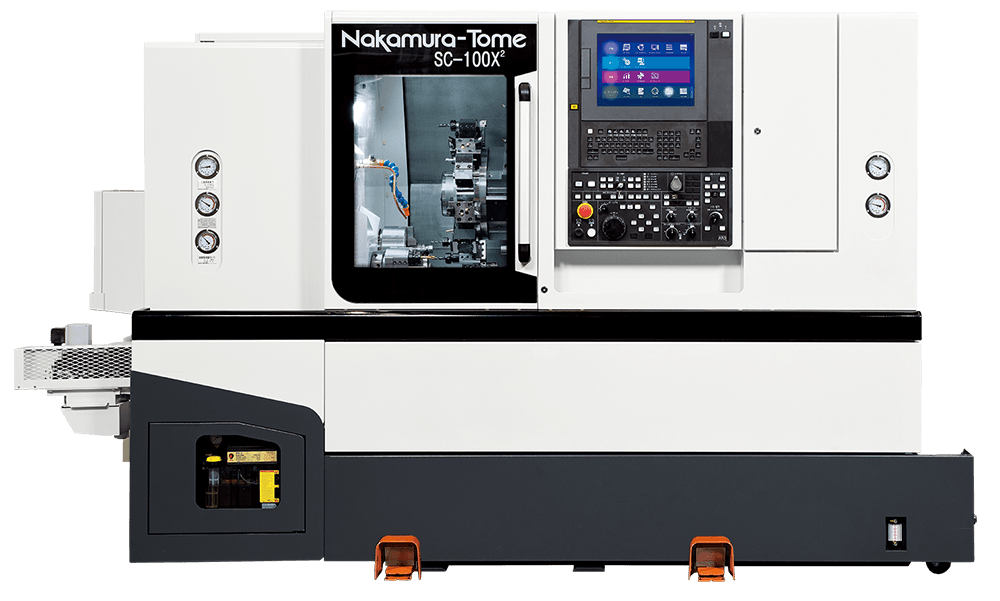 For example, the Nakamura-Tome SC-100X2 offers unique machining capabilities through opposing spindles, multiple turrets, high rigidity, and reduced setups. Because of its ability to use different cutting processes simultaneously, this machine can create contours and perform turn cutting, milling, cutting, and other gaging tasks, all under a single setup. The SC-100X2 features two key cutting features.
Oscillating cutting
Vibrates the tool in synchronization with the spindle rotation to break chips to eliminate chip forming and wrapping to ensure higher precision and overall quality of the final workpiece.
Superimposed machining
Makes cutting possible across up to four tools at the same time with sub-spindle axis movement in X- and Z-axis.
Benefits of a Multitasking CNC Machine
These machines are especially suited for a high mix of complex components in small- to medium-production quantities, often the sweet spot for machining job shops.
Increased efficiency and productivity: Moving parts from one CNC machine to another or maintaining a production cell is unnecessary. Everything happens on a single machine, increasing production rate and efficiency.
Improved accuracy and repeatability: Production accuracy decreases with the increase in mounting and dismounting operations. Machining with a single CNC multitasking machine eliminates frequent installations and dismounting processes that reduce component accuracy. Multitasking machines maintain precision and accuracy.
Reduced setup time and material handling: You do not waste time setting up different machines for different tasks. A single multitasking CNC machine is enough.
Greater flexibility in machining different parts: It is possible to set up multitasking machines with the largest bar stock possible and schedule programming depending on your specific needs.
Better utilization of space and resources: Because there is no need to have several machine tools for different processes, the number of machines is significantly reduced, utilizing factory floor space efficiently.
Increased work capacity: Multitasking machines handle heavy workloads, unlike conventional machines.
Applications for Multitasking CNC Equipment
These machines are suitable for machining various metals and specialty alloys.
Turning – CNC turning with multitasking machines is used mainly with metals such as alloy steel, carbon steel, cast iron, stainless steel, aluminum, copper, magnesium, and zinc. These turning solutions are ideal for producing surfaces and screw threads for aerospace or, in the case of ornate lathes, complex three-dimensional products.
Milling – The rotating cutting tools attached to multitasking machines involved in the milling process remove small pieces of material from the workpiece to shape the workpiece or punch holes.
Surfacing – The machines apply frictional surfacing to develop similar or dissimilar combinations/joining partners that exhibit sound mechanical properties.
Helical milling – The machines use helical interpolation to generate holes, circular ramping, and thread milling.
5-axis – Integrating 5-axis multitasking machining solutions support industry-specific applications that improve product quality and consistency submarine parts, high-performance engine parts, turbine and compressor blades, smart weapons, sensors, stealth applications, and nuclear weaponry.
Mill-turning – The machines integrate mill-turning solutions to make toys, molds, prototypes, and furniture. The machines produce high-precision metal parts for engineering design.
Hobbing – With these machines, it is possible to perform gear hobbing in a CNC lathe.
Skiving – The machines have a unique tool holder, a custom-made tool, and a Y-axis needed to make gears through power skiving.
Broaching – These machines perform broaching jobs such as internal and external profiles and various shapes, such as hexagons, squares, splines, Torx, and Rosan.
Grinding – The machines offer CNC grinding solutions used during the finishing process to create a high-quality metal workpiece for camshafts, ball bearing, transmission shafts, and other working pieces that require precision and perfect finishes.
Parts Produced with Multitasking Machines
Medical
Aerospace
Automotive

Surgical scissors
Biopsy tubes
Blade handles
Cutters, saws
Forceps,
Implant holders
Clamps

Jet engine cases
Turbine disks and blades
Landing gear
Valve components

Fluid system components
Exhaust parts
Bushings
Suspension components
Valve retainers
Carburetor housings
Boost Precision and Productivity with Multitasking Machines
Industry-trusted multitasking machines deliver higher productivity and quality. When combined with advanced integrations, including automation and robotics, these machines deliver greater ROI.
Our engineering specialists analyze your goals and workflows to identify opportunities for integrating multitasking machines. Contact us today to discuss multitasking machines and engineering solutions.
FAQs
Multitasking machines are numerically controlled machine tools that combine the functionalities of two or more conventional standalone machines to form a single super machine that performs multiple tasks
Multitasking machines increase efficiency and productivity, improve accuracy and repeatability, reduce setup time and material handling, ensure greater flexibility in machining different parts, better utilization of space and resources, and increase work capacity.