Methods Machine Tools Introduces High Precision Nakamura  Multitasking Machining Center with World's Shortest Tool Spindle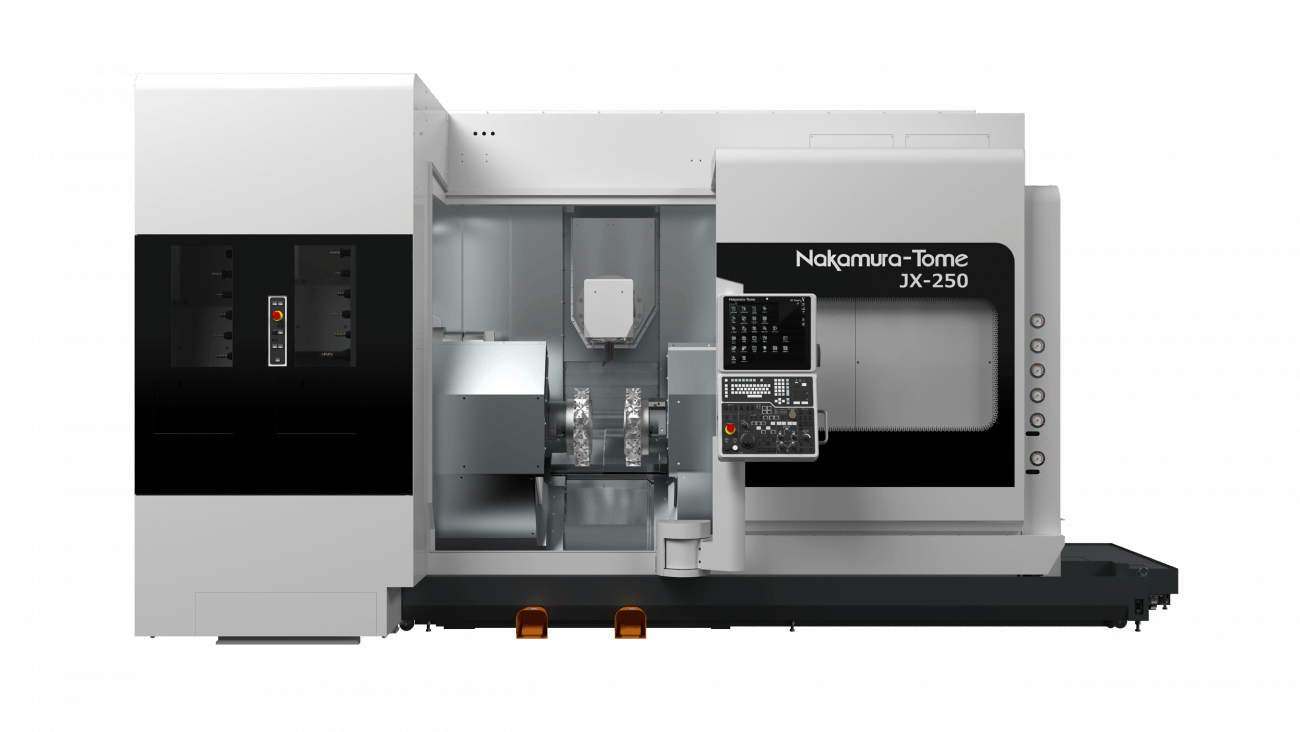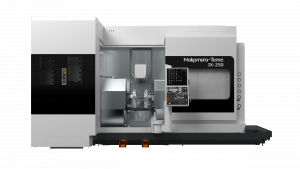 Nakamura JX-250 offers Large Machining Area Envelope, More
Methods Machine Tools, Inc., North America's foremost supplier of leading-edge precision machine tools and automation, has introduced the Nakamura-Tome JX-250 High Performance Multitasking Turning Center which offers the largest machining area envelope in its class for high precision milling and turning of complex parts. The ATC-style Nakamura JX-250 features NT Smart Cube Tool Spindle, the shortest tool spindle on the market today. The 12,000 RPM tool spindle permits maximum part length on the left and right spindles, including when the horizontal tool spindle and lower turrets are in the cut.
To optimize part transfer, independent right spindle guideways on lower turrets minimize the distance between the spindles at 11.8" (300 mm). For highest processing flexibility, a single or twin lower turret design is offered with overlapping travels and Y-Axis box guideways are standard. The new multitasking machining center provides up to 168 tool stations.
"We are pleased to offer the highly precise and efficient Nakamura JX-250 mill/ turn solution for precision manufacturing in a broad range of industries, including aerospace, medical and automotive," said Mr. Sergio Tondato, Nakamura-Tome Product Manager at Methods Machine Tools, Inc. "The JX-250 is exceptionally productive ‒ allowing maximum part length and performing left and right simultaneous machining."
The Nakamura JX-250 offers high accuracy and exceptional rigidity due to its horizontal bed design with a wide, low center of gravity and vertical column structure, weighing 55,000 lbs. NT Thermo Navigator AI technology controls thermal growth during machining and compensates for temperature changes.
The new multitasking turning center has a maximum turning diameter of 12.6″ (320mm) and a maximum turning length of 65″ (1,650mm). The left and right spindles have 3" (80mm) and 2.5" (65mm) bar capacity, respectively. Tool spindle X, Y, Z travel is 25.4″ x ± 4.9″ x ± 32.5″ (645mm x ±125mm x ±825mm). The B-axis tool spindle positioning range is 240°
The JX-250 features a SmartX touch-screen, PC-based 19" high-resolution color touch screen, which works in conjunction with the Fanuc 31i-B5 control for a high degree of functionality. A 5-Axis Precision Milling software package ensures optimal 5-axis milling.
The JX-250 comes equipped with several smart features including the NT Work Navigator that can recognize the coordinates of machine parts with non-round shapes such as those in forgings and castings, without any additional costs involved. This feature eliminates the need for costly positioning fixtures and clamping devices. The Advanced NT Nurse System all-in-one software package is also included, providing convenient, easy-to-use support for the operation, programming and production on the JX-250. Critical functionality includes phase recognition (key for multitasking), direct chucking enabling transfer without positioning error, and precise synchronization of the left/ right-hand spindles. Additional functions include a load monitor for identifying tool wear/ breakage, tool life management and machine monitoring.
All Nakamura-Tome machines are equipped with a standard electronic detector safety feature that greatly reduces the impact and force of a machine collision. Should a crash occur, within 4 milliseconds after the crash, servo motor-feeding direction is reversed and the machine will stop in EMG mode.
Methods is the exclusive U.S. importer of premier Nakamura-Tome Multitasking Turning Centers. Click here for more information on the Nakamura-Tome JX-250.